Missions
We believe in missions. We at Plano Chapel are making a sincere effort to place 10% of every dollar where it will really count. Back on the mission field to support many worthy causes throughout the world. May we all do our part to reach the world with the Gospel of Jesus Christ!
We support local ministers and those in far off countries in the missionary work. You will find a list of the ones we support below.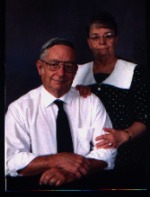 Floyd and Opal Key head up our missions here at Plano Chapel.
Two very special people. They run the mission room that we have at our church. They work very hard repairing the clothing to make sure that they are as good as new. They hold fundraisers to raise money for the missionaries that we support all over the world and they started and faithfully attend the service at Medco Nursing Home. Sister Opal is also a Sunday School teacher.
---
MISSION ROOM
Mission room available to help those in need to help restore their homes in a time of trouble. Food, clothing and misc. items.
---
Bishop Danny R. Patrick
Bishop Danny R. Patrick is the General Overseer of the Church of God U.S. Headquarters, P.O. Box 525, Scottsville, KY 42164. This is a world wide organization that reaches out to thousands of people all over the world. The organization is home based in Scottsville, KY and you will find a link to their home church in our "favorite links" page.
---
B.H.Clenndennen
VOICE OF VICTORY is a world wide missionary outreach, based in Beaumont, TX. Nearly 40 years ago God sent a man, who passed away on 12/13/09 to start this great church and missionary out reach by the name of B.H. Clendennen. Through God's guidance he founded over 2,000 churches in Russia alone. Only in heaven will it be known the fullness of the Voice Of Victory Ministries and the outreach that touched the world for Christ. The ministry that he started is still going strong with the same convictions that he held while alive. Victory Temple Church P.O. Box 26001 Beaumont, Texas 77720-9988. You will find a link to the SCHOOL OF CHRIST on our "favorite links" page. There are online classes you can take part in.
---
Pastor Robert Turnage
Victory Temple 2630 S. 11th St. Beaumont, TX 77701-7604. You can visit his website at: http://www.victorytemple.org/. Also afiliated with Voice of Victory
---
WORLD CHALLENGE
World Challenge is an outreach based in Lindale, TX with its founder David Wilkerson, Sr. who is the pastor of Times Sqaure Church in NY. World Challenge reaches out to millions of teens across the globe, working with the drug addicted and homeless. Time's Sqaure Church in the heart of NEW YORK has over 100 nationalities attending its services regularly. Bro. Wilkerson is the author of the story of the end times, "SET THE TRUMPET TO THY MOUTH." You can contact World Challenge at P.O. Box 260, Lindale, TX 75771 and can also contact Times Sqaure Church at 237 W. 51 St at Broadway NY City. You will find links to both place's on our "favorite links" page.
---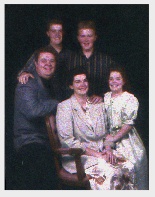 Brother Marty French and Family
Brother French and his family are from Richmond Indiana. They have left all the luxuries of Amercia to live a humble and simple life, reaching the lost for Jesus. We are never around Bro. Marty and his family without felling the sacrifices of their lives and being greatly humbled by their presence. In Heaven they will shine like stars!
---
AMERICAN CENTER FOR LAW AND JUSTICE
This is a legal organization that is going into our courtrooms across America, to defend the rights of our Christian people, to pray and to worship publicly without fear of government involvement. They also help to insure that our children might enjoy the priviledge we have enjoyed in a country based upon the Word of God, THE BIBLE. For more information, there is a link to their site on our "favorite links" page.
---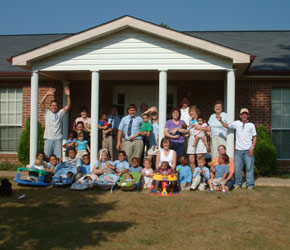 Adullam House

Plano Chapel Church supports Adullum House ministry. Adullum House is a safe haven in Alabama for the children of incarcerated parents. You can visit their website at www.adullamhouse.org.